COURSE MANAGER'S BLOG
Course Manager Scott Gardner keeps us up-to-date with the latest news from the course
January 2021
Ponds are great for puddles; rivers are great for floods!
If greenkeepers could control the weather, that would be so goooood!
The bizarre times continue, for now! My staff and I are continuing to do as much as we can out on the course around the horrendous weather that we have been dealt. We are operating at 2 staff per week, taking our turn on flexible furlough for the future needs of the business. Hopefully, this means that we can get off to a flying start once the course re-opens!
We are continuing with as much as possible out on the course, including:
DRAINAGE: The pond will be a great addition to help drain the local area, and we will be installing a submersible pump and an electric feed to the pump to empty water out from the pond 18" below the outlet height. The reason for this is simple; we want the pond to hold more water and, given that the height differentials between the inlet and outlet only differ by a few inches, we need to empty the pond after lots of rainfall so that it helps to hold even more.
In the longer term, we continue to investigate further drainage improvements, including exploring the possible creation of a new outlet to the river with the Environment Agency. People say to me, 'But it was never usually this wet', and of course, that is the case. The reason is that climate change is real and river levels are continually rising. Hence, my number one priority, as Course Manager, is the future safeguarding of our course and drainage systems.
Other positives are: we have stripped the turf, levelled, lengthened and re-turfed 4 tees this winter, totalling 800sq metres. Irrigation heads on the tees have been moved and raised. We created a fantastic area around the 8th tee complex, incorporating the two trees at the side of the tee to create an intimidating-looking tee shot whilst maximizing the light and airflow potential for the local growing environment. Included in this area is a flower bed to help create a local habitat for wildlife. We will continue to plant native species to encourage native wildlife.
We have also created a pond, constructed pathways, fixed the practice nets with new baffle netting, fitted new course winter mats, and drained the whole left-hand side of the 15th greenside/16th carry and the first 100 yards the 16th fairway. We have removed trees that were dangerous (14th) and pollarded another to improve the ground conditions underneath (7th), as well as being on top of leaf collecting and maintenance tasks. This is an exceptionally good achievement from my hard-working team, mostly in awful conditions too.
We are now applying the finishing touches to the projects dependent on what the weather allows us to achieve each day. This will ensure that the golf course is in the best possible condition come springtime and the projects should have then bedded in nicely.
The continual large amount of progress means that we are going to keep pulling forward as a club together. We have lots of work to do and we have also achieved lots recently, too. We are hoping for better times soon and I wish everybody a healthy 2021 with lots of good golf.
NB: Lookout for the Pitchcare magazine in February/March featuring an article from myself about modern day greenkeeping at Northenden Golf Club.
Scott Gardner
Course Manager
---
November 2020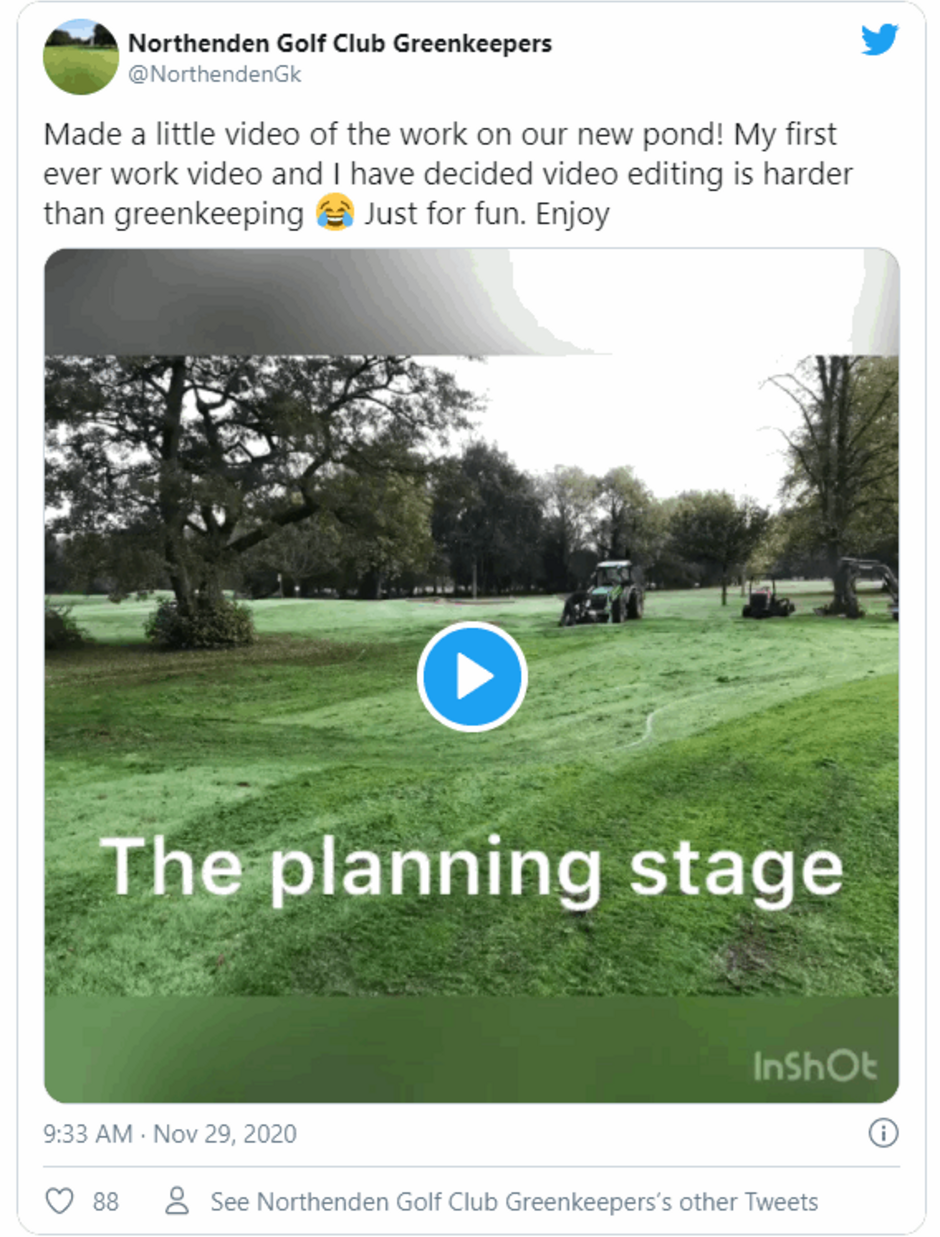 ---
June 2020
As I write this blog in my office with the rain crashing down, I cannot help but feel a sense of relief from the fact we have now had some much needed (wait for it) rain! Not too much from now on though please!!
Can I first give a warm welcome to our new apprentice, Tieren. Also, a very warm welcome to our new members.
Well, spring certainly was a very tough but rewarding period out on the golf course. We have seen some significant improvements in many areas, most of all, our greens. The toughest challenge was coming out of the wettest spell we have seen for many years with saturated roots and soils where plants will shut down and not take in any nutrients - straight into hydrophobic soil conditions and a drought within only a couple of weeks. Making this even tougher was the cold night temperatures, strong winds and occasional frosts, leaving no time in between the spring to summer transition period for grass plant recovery like we would normally see!
We have managed three small greens renovations up to now with a total of 80 tonnes of sand going on/into the greens. Our target is a minimum of 150 tonnes over the playing season. This will come with many benefits long term on our greens, as we look to improve on quite poor organic matter content and overall levels of porosity.
We have brewed a total of four compost teas and sprayed them on the greens; we aim for around eight before we start to see more significant benefits. The principle is to target the soil rhizosphere. We brew compost teas to add microorganisms into the soil that, in turn, help fight off parasitic fungi within the soil (naturally without the overuse of fungicides), parasitic fungi being the pathogens that cause us to inherit disease such as fusarium.
Within the plant exudates, our grass roots shed nutrients such as carbohydrates and proteins as our soil biology feeds on the secretion from its roots. This is where spraying specific tailored chemicals is important to replenish the plant. Bio stimulants such as seaweed and turf carbohydrates are a great food source for soil biology. This principle will work at home on your lawn, too! Give it a go.
I have been steadily monitoring our moisture levels and studying/changing our irrigation patterns to develop a more consistent and efficient running cycle. For instance, the 11th green was much higher on average in moisture than the 9th green. The reason was simple; the green was getting too much water for the total area of the green. The benefits of this in dry spells are a more consistent turf health and similar green speeds on each green. Moisture and friction are two big factors in green speeds so, needless to say, we try to get that consistent first.
Cutting heights remain at 4mm. The sward density is particularly good, and the greens are looking lush (especially after the 25 tonnes of sand we have just put down). We are down on Nitrogen input by 30% for the time of year and in our area. We are at a total of around 25kg for now! This will be good for the overall health of our greens and allows the finer grasses to flourish.
Next week will see the removal of several, if not all, of the tree stumps from around the course, as we have contractors coming in to work on several areas. They will also be carrying out particularly important tree work behind the 7th and 8th greens to allow for more light to pass on to the greens and better air flow to help dry the putting surfaces and minimise disease risk. Could I please ask that, where possible and if not playing in a competition, you use common sense when playing close to the contractors. They are here to do a job efficiently and then go, so I would appreciate it if you can give them the right of way.
I hope everyone is enjoying being back on the course! With averages of around 160 players a day, the course is seeing an incredible amount of golf. This is a challenge for doing even the most basic of tasks, including essential greens work. With 238 hours a week of general maintenance targets to meet, this certainly poses another challenge for me and my staff. We have been starting work at 5.00 am some mornings to help get out of the way. It is not always possible to get ahead though, as certain jobs (like cutting fairways) take 8-9 hours to complete. So, we ask that you please be patient and, most of all, we hope that you enjoy being back out playing golf. Can I just say a massive thank you to all for the kind comments we have been receiving and a big thank you to all the volunteers past and present. Also, a big thank you to the 500 club for their continued support, enabling us to purchase things that we need in the workshop and on the course.
Please replace divots and repair pitch marks!
Thank you and have a great start to competition golf.
Scott Gardner
Course Manager
---
APRIL 2020
Directors Note: The Department for Digital, Culture, Media and Sport (DCMS) have stated "For security and essential maintenance reasons greens staff can still attend work". The R&A have subsequently issued an industry statement that sets out a reduced essential maintenance regime for greenkeeping. We are abiding by the guidance in order that greenkeepers are kept safe and the course is ready when we are back playing. We are currently operating with reduced staffing and thank Scott and his team for their hard work and cooperation during this challenging time.
Firstly, I sincerely hope that all members and your families are safe and well.
Challenging times, especially after such a testing winter period!
I have always been up for a challenge though, so fear not.
Myself and my staff are continuing to do our upmost to ensure the club and our course can keep moving forward with the current resources that we have available. We are down to just two staff temporarily and as per government guidelines we are only undertaking essential maintenance. These include the mowing of greens, tees and rough. Also, irrigation if needed and the removal of dew to supress disease.
I currently have a planned work schedule in place for myself and Steve, also another for when my staff do return to work. The schedule includes bunkers firstly. Once we get the bunkers in play our focus will be back on edging and topping off pathways, trees (strimmed around), applying seed with rootzone to worn areas and marking as G.U.R and installing new marker posts for hazards and O.O.B that we have in the shed painted and ready to go!
Thank you to the 500 club too for our latest purchase, a complete set of quality tools for machine maintenance.
Finally, I would ask for any members that would like to volunteer once things hopefully return to normal to come forward please. Things like, weeding pathways or bunkers to enable us to get the course up to the best standard we can for all to enjoy at the quickest rate possible.
Here are a couple of recent photos.
Regards
Scott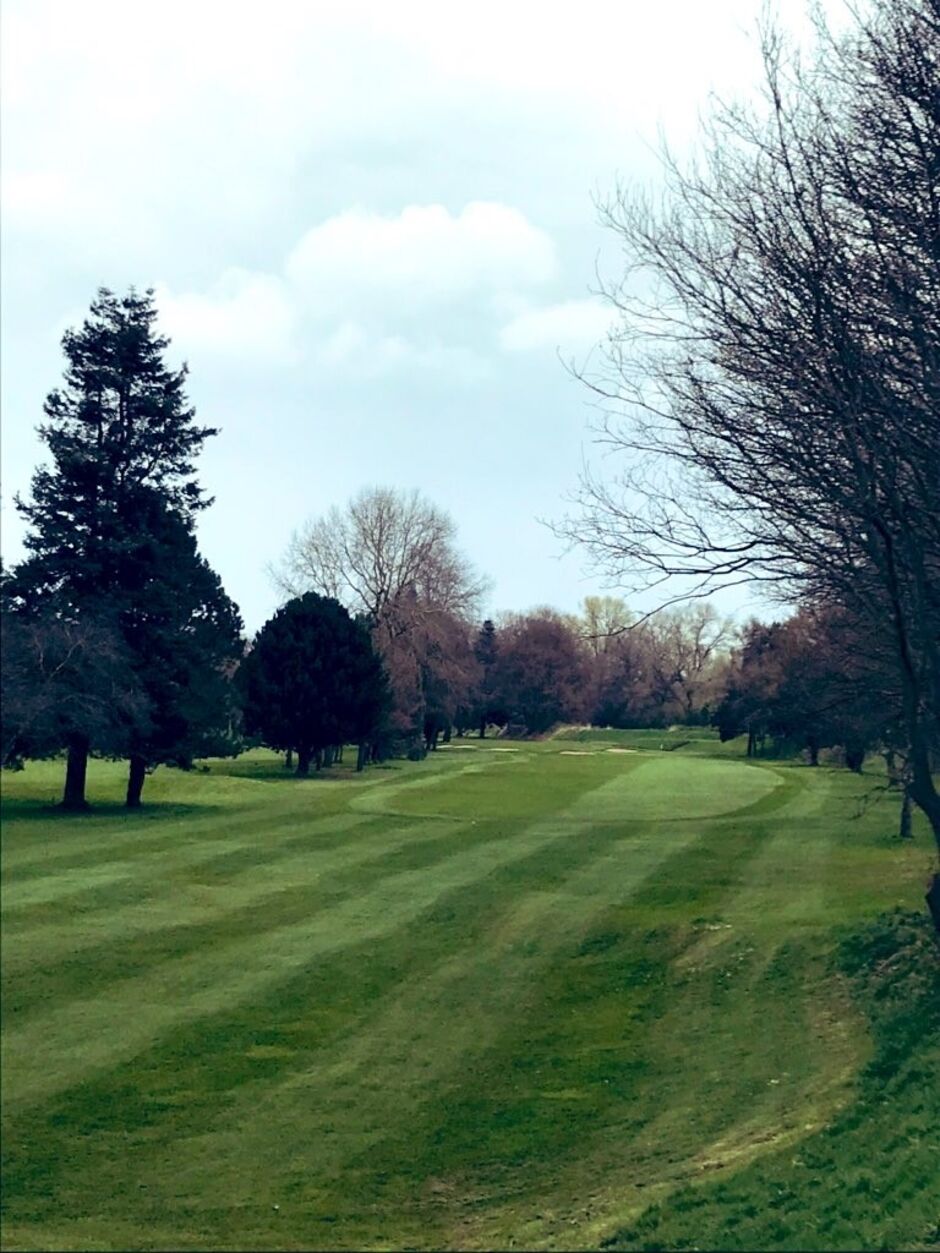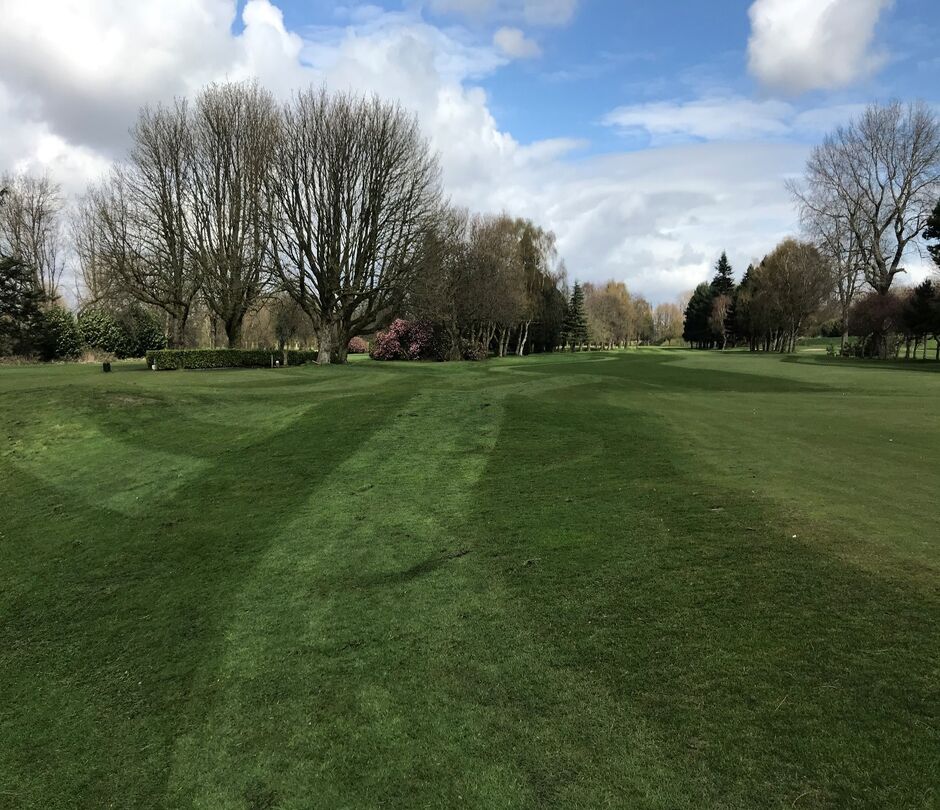 ---
January 2020
Happy new year to all associated with Northenden Golf Club! First of all I would like to take this opportunity to thank all of the members, staff, directors and the 500 club for all of your support and for making me feel very welcome in my new role as Course Manager. I am looking forward to my first summer in charge.
Upon my arrival at Northenden it was quite apparent that there was a vast amount of work to be carried out to get the course back up to the standards that I and others expect! I was hoping we could hit the ground running but unfortunately the weather put a big halt to that idea. However, that did allow us to assess the current drainage system and see where improvements can be made and how we can make these improvements in the long term considering the outlets into the river etc.
Extensive plans are in place to improve the drainage for the future of the golf course and we are hoping to start work on the outlets to the river and holding area in February/March with the help from the 500 club who have sourced machinery and operators to help lighten the workload so we can keep up with day to day maintenance whilst we undertake such a demanding task!
This project requires a certain level of skill and understanding, highlighting the need to tread carefully and have all potential outcomes and plans in place. We are looking at drawings from United Utilities to help assess our options. We are hoping to increase the outlet from its current 200mm pipe to a 600mm pipe that then makes its way into a 3ft drain to the river. This would then allow us to drain the problem areas and fairways without the worry of the water backing up the course!
Equipment
The club have backed my decision that the old fairway mowers needed replacing. We are delighted to announce that we have purchased a brand-new Baroness fairway mower. We are hoping to take delivery of this mid-January.
The bunkers and paths
Bunker work has started and we will aim to have all the bunkers edged/ tidied and in play by the end of January. The sand will be topped up closer to the playing season where necessary.
Pathway improvement is another area that we are very keen to improve upon. This is a very time-consuming job due to the majority needing new edgings. We are hoping to get as many as possible done throughout February with new edgings and new topping.
Greens
The greens, of course, will be my number one priority closer to spring time. The purchase of the verti-drain means that we can get out and work the profile of the greens to help improve air to the rootzone and have healthier, deeper and stronger roots with less thatch build up in the greens. This will make them firmer in the long term and increase playability. It will also make them more resistant against disease.
As from March this year Propiconazole (the active curative ingredient in fungicides) is no longer allowed to be used. This means there are NO curative fungicides available to purchase. Meaning that cultural practices and sustainability is now more important than ever in the way we manage fine turf throughout the U.K. I was fungicide free in my last role at Swinton Park for two full years with small amounts of disease outbreak.
This was accomplished by using cultural practices, increased aeration techniques and timings and with the introduction of compost teas to help improve microbial activity in the soil profile. Cutting and thinning of trees around greens to increase airflow was also necessary. There was use of bio stimulants such as liquid pressed seaweed to stimulate the microbes in the soil. The same method that we will be using here at Northenden as soon as soil temperatures (usually in spring) allow.
We currently have Fusarium, but that should not worry anyone as Fusarium is mainly attacking POA Annua (an annual meadow grass that is very difficult to get rid of normally and slows green speeds down dramatically in summer) not so much the finer grasses within our greens (the ones that we want). Recovery will be quick in the spring! If we keep choosing to spray a fungicide (that may last only a few weeks) we are ruining the greens natural defence system and killing all the microbes within the soil. This has a long-lasting effect and means that when we get disease outbreaks in future they will happen twice as badly. Hence my strict no fungicide approach to our greens. They will improve dramatically after a full season of growth and with the approach I take towards maintaining them.
We will have some scarring, but we will recover very quickly in spring. Especially with plans to over seed the greens with pure creeping bent grass at renovation time. The long-term goal is to be fungicide free using compost teas and enough fertilizer to produce great surfaces. This also has a massive financial gain too as fungicides can often set you back £900 per application!
Jobs completed or near completion
The bunkers.
13th drainage system in front of the tees.
13th removal of trees for airflow and light and to create a wildlife area with wildflowers and a bug hotel.
13th to 14th pathway grade banking down, remove old redundant irrigation pipe.
Drain on the 5th surround.
Verti drain greens.
Air2G2 greens.
Pathways tidy and edge.
Tree copses removal of shrubbery under trees for visual improvement and playability.
Clear ditch to holding area with digger.
Excavate 60 tonnes of soil at the greenkeeper shed to allow for a new base layer of hardcore so we can fit a second cabin for the storage of hand tools.
Concrete around septic tank to seal gaps and fix the issue with water ingress.
We thank you for your continued support. Please help us as much as possible by repairing pitch marks and replacing divots!
If anyone would like a game of golf with myself just contact the greens chairman or the directors or email the office FAO the Course Manager and I would be more than happy to get to know a few more members and take peoples views and opinions on board whilst having a game.
Regards
Scott Gardner
Course Manager